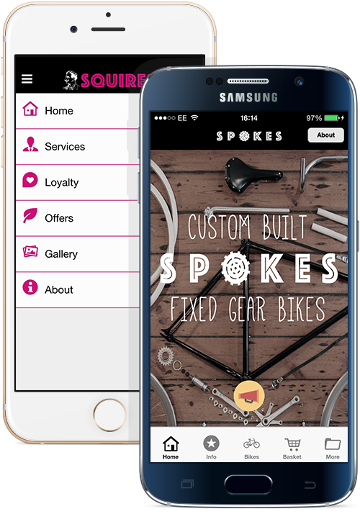 Having an App to support your business offers huge benefits and is a great step to take to keep your customers engaged and coming back. Not only does it offer a better customer experience but also enables small businesses to leverage the power of mobile marketing and stay connect with their loyal customers, 24/7. As of 2014, Mobile web browsing skyrocketed above desktop, and like it or not, it's not going to change any time soon. Now almost anything that a desktop is used for can also be done by a smartphone and people love it. Smartphones have almost become integral to the way people live and manage their lives, they are with you 24/7 and many businesses are tapping into this huge marketing opportunity, and here's how you can too.
Book Right from the App with Just a Few Taps
One fantastic reason to build an App into your business is so that it can be used as a platform for your online booking system. Without an App the customer has to search for your website through a browser, find your booking page and then schedule their next appointment. With a mobile App you can streamline that whole process into a few taps directly from their smartphone.
Loyalty Stamp Cards – Reward Loyalty
When it comes to loyalty, customers love knowing that their business is appreciated. It also gives you an opportunity to encourage repeat sales by incentivising their next transaction with you. With an App, you can give your customers a simple way to earn loyalty and earn rewards through a mobile Loyalty cards and keep them coming back.
Mobile Coupons
During those quieter times, why not push out some special offers that can be redeemed by your customers who have the App? You could also promote seasonal deals, last minute sales or new services. Mobile Coupons are also an incredible way to incentivise your mobile App downloads.

Stay Top of Mind
The average person looks at their phone 85 times a day. So when you have an App, every time a customer looks at their phone your App's icon will be there to remind them about your business.
Location-Based Messaging
Mobile App marketing enables businesses to send Push Notifications based on an App user's location by creating a ΓÇÿgeo-fence' to trigger the message. This means you can target nearby customers with timely, highly relevant in-store offers.
Scheduled Messages
Schedule your messages in advance so you can spend more time running your business. This is perfect for upcoming holiday closure announcements, seasonal deals or recurring offers. Simply set up the messages you want to schedule, set the date and time and get on with your day. If you know your business has quiet periods on certain days or times, then schedule Push Reminders to get encourage customers to visit you.
Contact Information Stored All in One Place
If your customer needs to contact you for any reason, whether it's to provide extra details for their booking or to make an enquiry, they're much more likely to keep using your business if this information is stored just a tap or two away. This way they don't have to search for your details online or scroll through their phone list.
The Best of Both Worlds
Having a desktop booking system as well as mobile app means your business is accessible by every device. Mobile web browsing took over desktop back in 2014, and many people today rely solely on their smartphones to access the internet. By offering a streamlined mobile app solution you can reduce the friction of your customer's booking experience by enabling them to connect with your services from any device and any location, whether they're commuting to work in the morning or out for lunch.
Ian Naylor, CEO & Founder at AppInstitute. AppInstitute is a DIY App Builder for Small Businesses. Try it now for free.