Did you know that 96% of unhappy customers won't complain and 91% of them will simply never return?
Given this, it's easy to understand that you need to:
1- Ensure that your customers are happy with the services you offer as well as the overall customer experience you provide.
2- Send a survey on a regular basis to measure their satisfaction and see if there's anything you need to improve upon.
Customer satisfaction is the key to your success: not only does it ensure customer loyalty, but it also helps attract new customers thanks to positive word-of-mouth.
Getting customer feedback regarding all the steps of your customer journey is therefore essential.
In this guide, you'll learn how to create a satisfaction survey with ease.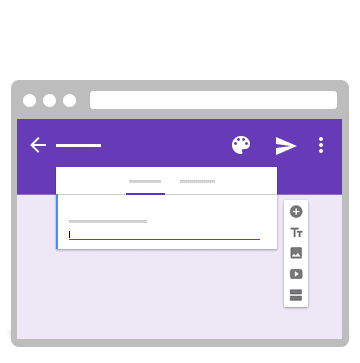 Source : Google Inc
1. Determine all the steps throughout your customer journey, from initial contact to rebooking.
Here's an example of a customer journey:
→ Before the appointment
Find all the necessary information about the business quickly and easily
Contact the business quickly and easily.
Book an appointment quickly and easily.
Receive an appointment reminder.
→ During the appointment
Receive a warm welcome.
Receive excellent service.
Be listened to and receive assistance
Have a positive experience during payment.
→ After the appointment
Be able to book the next appointment quickly and easily.
Have incentive to return. For example, through a loyalty program.
Enjoy a personalized customer experience.
2. For each of the steps you identify, make sure to ask your customers relevant questions.
Here's an example for the first step in the «Before the appointment» section:
– How did you hear about our business?
Through Facebook
Through a friend
Through Instagram
By doing online research
While passing by
Tip: After the questions,make sure to leave some space so customers can give their opinions, feedback and recommendations. They might bring up a point you didn't think about.
3. Creating the survey
Once you've determined all your questions, you can start to build the survey. There are
many platforms that'll help you do it for free. For example, you can use Google Forms.
*Here's all the information you'll need to create your Google Forms account. From there, you'll quickly learn how to create your first survey.
Tip #1 – At the end of the survey, make sure to add a section to thank your customers for taking the time to answer your questions.
Tip #2 – Estimate the time needed to complete the form and make sure to mark it clearly. This way, your clients will see their progress as they answer the questions. In general, try to be as concise as possible, and avoid creating a form that takes more than 5 minutes to complete.
You can even add a progress bar to encourage them.
4. Send out your survey
Once your survey is ready, send it out to get as many answers as possible, in order to get as much useful information as possible.
Send it out on all your communication channels:
Create a post on your Facebook page, and on every other social network that you use for business. Don't forget to mention how long it'll take to complete the survey.
If you have a client list, send the survey by email. They'll be able to fill it out when they have some time.Tip #1 ΓÇô Personalize the email subject header in order to increase the chances that your customers willopen it and complete the survey. It's an effective strategy to increase your open rate.Here's an example:
[Fname], your opinion matters to me!

Tip #2 ΓÇô Don't forget to explain why they're receiving the email.For example, it can be: «Thanks for visiting us. In order to offer you the best experience possible, we would like to ask you some questions.»
You can even send them the link by text message at the end of their appointment. Between 92 and 98% of all texts are read, making it the media with the highest open rate. In comparison, emails are only read 22% of the time.
5. Analyze the answers
Once you start to receive answers, take time to analyze them. Determine your strengths as well as the steps during the customer journey that need to be improved.
Don't forget to take into account all the additional suggestions and comments made by your customers.
It's also important to identify how many times the same point is brought up by different customers. This will let you know what to focus on first.
6. Build for the future:
Based on the answers you receive and your analysis of them, prioritize future actions in order to improve your customer experience.
For example:
If the main issue raised by your customers is that it's hard to find your business online, focus your efforts on promoting your business and building an online visibility strategy.
If their main frustration is that it takes a lot of time to book an appointment, why not offer online appointment booking to your customers?
And so on.
Then, for all the changes you need to make in order to improve customer satisfaction, establish deadlines and respect them.
7. Finally, send out your satisfaction survey regularly.
This will help you monitor your improvements and see if they've had a positive impact on customer satisfaction.
Because customers' expectations can quickly change, you need to make sure you meet them all the time.
You now have all the information you need to create an effective satisfaction survey, and to implement changes that will help you offer a standout customer experience.