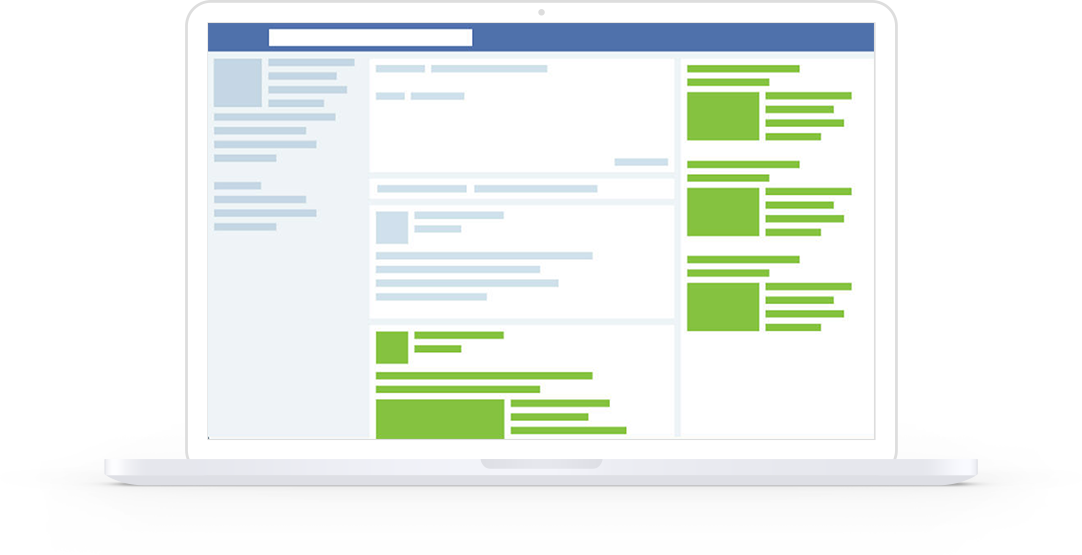 ---
»Facebook is the #1 influencer of purchases for 47% of Americans.«
This is a huge business opportunity for you. In addition, with Facebook ads you can target your audience with precision, while keeping control of your expenses.
You simply have to use the type of ads that matches your needs, and measure its performance using the metrics provided by Facebook.
Here are 3 types of ads that can help you to reach your goals with a small budget.
---
Boost your Posts
---
When publishing a post on your page you can use Facebook ads to boost it, which means reaching a larger audience.
It's a very interesting strategy to make your page known to new visitors or to stand out in your fan's newsfeed. It allows you to sensitize them to your content, in particular if you make effort to regularly publish relevant content for your audience. Indeed the process of boosting your post drives new visitors to your page. If the information is pertinent for them, they should be interested in your page, and they will be more likely to come back and interact with it.
This type of ads is easy and quick to set up, because there are very few options to configure; however, this reduced number of options gives you less control and, unlike most of the Facebook ads, you can't target your audience with as much precision. In addition your content has to be very relevant to your audience, otherwise it will be a waste of both your time and money.
Audience Targeted by :
Fans (people who liked your page) and their friends, or
Demographic
Interests
---
Reach People Near your Business
---
This type of ads is used to attract local customers who live or work near your business. You can promote a post (for example a promotion for one of your services) within a radius that you can customize. Don't forget to target mobile devices as lots of people use their smartphone to access Facebook when they are not at home or at work. That will surely increase the visibility of your post.
Audience Targeted by :
Proximity (radius of 1 to 50 miles)
Demographic
With this type of ads, Facebook will allow you to add specific call to action:
Like Page
Call Now
Get Directions
Learn More
Send Message
The Facebook ads call-to-action is a button which invites users to interact with your business. Don't miss the opportunity to easily convert your visitors into customers or to start a relationship with your audience by adding one of this button.
Local promotion ads are an excellent way to attract more qualified customers who are near your business, in addition to increase your visibility.
« Smartphone is used for 80% of shops or services researches».
---
Get People to Claim Your Offer
---
With this type of ads you can promote offers on your services (coupons, rebates, or any other special offer) that people will use in your business or your website. It's an efficient way to attract new customers.
If the offer is solely available in your business, make sure to target local customers only. And use this type of ads if you want to increase your sales on a specific time, or if you want, for example, to encourage customers to come during less busy hours.
Audience Targeted by :
Fans (people who liked your page) and their friends, or
Socio-demographic
Interests
And more
By starting with a small budget spent on a limited time you will be able to familiarize yourself with Facebook ads and identify which option works best for you, according to your goals.
References:
1) http://bettermousetrap.ca/entries/jason/top-12-internet-marketing-stats-for-2015
2) http://blogues.radio-canada.ca/triplex/2014/05/08/recherches-telephone-achat/