This article provides you simple advice on how to get your clients to book online.
Online Communication
Word of mouth
On your Business Cards
On your Voicemail
---
Now that you have a booxi account with a complete profile and good looking website, it's time to invite clients to use this awesome online booking feature! They'll love you for it, as they'll save time, just as you will.
Online Communication

First thing you must do, is to make sure your business profile is available online. If you can find your booxi website on search engine, it means you are. To set your business profile online, you simply have to sign in on your booxi account, go to My Business and choose Available Online located right under your business logo or your profile picture.
Now inform your customers about this feature!
Communicate everywhere, Facebook, Google plus, Twitter, Instagram, Pinterest, and other social medias are efficient tools to get your clients to book appointments online via booxi. Post an announcement about the fact that you now offer online booking for appointments, you can tell them about the advantages of booking online as well.
Ask your clients and your friends to share your post or your booxi website. Clients are more receptive when it comes from another client than from a business.
Then you can publish this post again many times in the same month, to make sure that it has a great visibility.
As we just saw it, you can use social networks to inform your customers. To go even further, you can add the book now button directly on your Facebook page.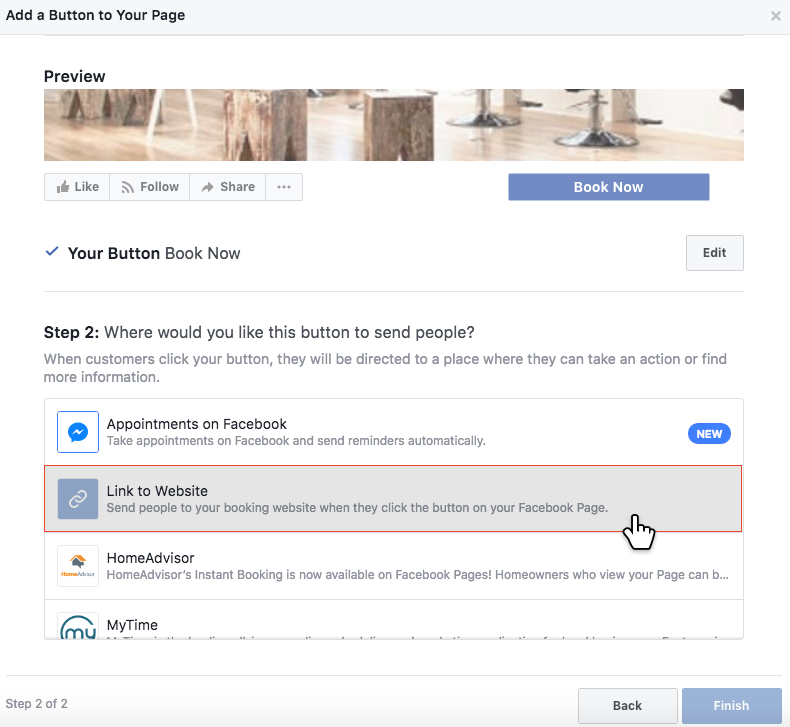 You can also add online appointment booking directly from your website if you have one. Then your customers will stay on your website and you will avoid risks that they book with the competition.

If you regularly communicate with your customers through newsletter, use them to explain, step by step, how to book online. And for the following newsletters make sure to add a "Book Now" call-to-action at the end of it. Moreover, you should make sure that all emails you send to your clients includes your booxi URL and invites them to book their next appointment online. Remember, the more clients book online, the more time you save off the phone.
Ask booxi to announce it for you
As soon as you are ready and your account is well set up, contact booxi : the team will send a message to all your customers to inform them that you now offer online appointment booking.
Classified ads and online directories
When you publish a profile on industry specific directories or classified ads websites such as kijiji for example, add your booxi website link (URL) so clients can easily book with you. Do the same wherever you post in forums or blogs, always add your booxi URL.
Word of mouth

Talk about it! During the appointment, while completing a sale at the counter, or even while booking over the phone. Explain to them the benefits of online booking, how much it is a time saver, and that they can use it 24/7. Moreover tell them they will receive a confirmation email and an SMS or email reminder just before their appointment, so they never miss.

On your Business Cards

Next time you will print new business cards, make sure to add the link to book online with you.

On your Voicemail

Make sure to change your message on your voicemail.
For example you could say "Hello, you are at Infinity Salon. If you are calling for your next appointment, you can know book online at www.booxi.com/booxi".
Thus, even when your customers call outside your open hours, they can book.
Appointments book by themselves, you become more efficient and you finally find time for you.
---
Try it for free
14 days – No credit card required