You can delay the confirmation message of an unpaid reservation. By default booxi sends a confirmation message as soon as the customer complete the booking. But you can now configure an auto cancellation if the client didn't paid online within 15 minutes.
This feature allows you to delay the booking confirmation message until the customer completes the required payment. It also allows you to be notified whenever an online payment is still missing after 15 minutes, so you can contact the customer and get the payment instead of cancelling automatically.
You can:
Setup the Reservation Approval to Automatic (after online payment).

Prevent sending a confirmation and a cancellation 15 minutes later.

Prevent sending a confirmation and instruction for an unpaid booking.

Get an alert to contact a customer for his payment.

Identify which reservations have not yet been approved.
Setup Reservation Approval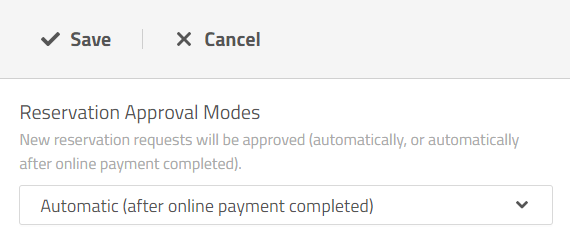 The Reservation Approval Mode is a Business Appointment Rules that allows you to delay the confirmation message, in case of a unpaid reservation. If the client doesn't pay within 15 minutes, you will receive an alert.
Follow these steps to enable this option:
Click on

My Business

from the main menu

Click on

Appointment Rules

section

Scroll down to

Reservation Approval Modes

Set it to

Automatic (after online payment completed)

Click

Save

at the top
Alert for Unpaid Bookings
When the reservation approval mode is set to Automatic after online payment, and a booking with requested payment remains unpaid, you receive a Reservation Request alert that has an incomplete payment. This means that if the reservation is unpaid, booxi will delay the confirmation. Then, you can contact the customer, complete the payment and approve the reservation.
The personnel associated with the group of each reservation will receive an alert. Use All Personnel to see all alerts, and use the same email in each Personnel details to get all alerts at the same email address.
Reservation List
In the reservation list, you'll see requests with a yellow dot, and approved reservations in green. A request is a reservation that has not yet been approved and for which no confirmation message has yet been sent, nor reminder message scheduled. You must approve those manually for the customers and attendees to receive their confirmations and reminders.
Remember
Use this option to avoid cancelling automatically and sending instructions for unpaid reservations.