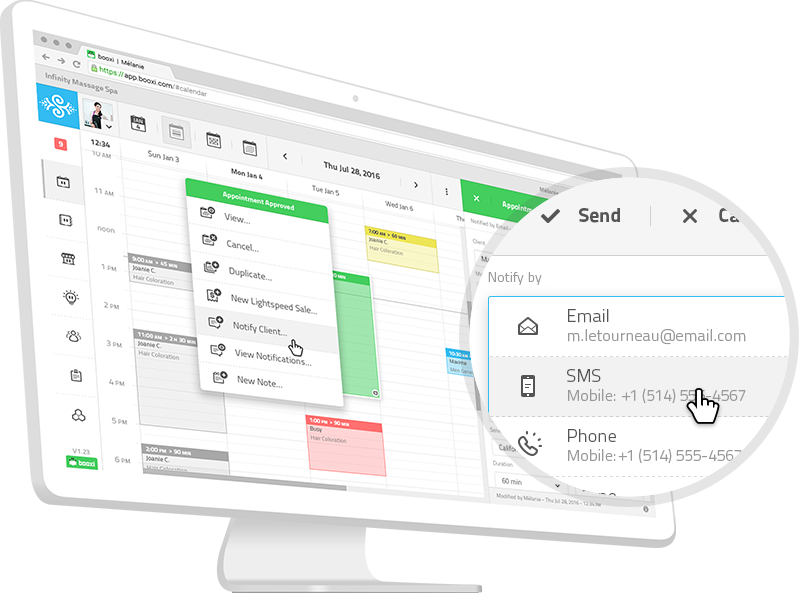 Businesses like pet shops and repair shops, need to inform their clients once a service is done, just like any business may have to communicate quickly with a customer, for example if they are late with their appointments, and want to notify the next customer of a delay. With booxi it is now quick and easy to do it! Let's take the example of a customer who booked an appointment to drop off his pet for grooming, bike, car or smartphone for repair. The customer is not present during the service, but has to be informed when it's done. You currently have to call each customer; while with booxi you could:
Send a notification as soon as the service is completed.
Quickly select a predefined message.
View all the messages you sent for a specific appointment or to a specific customer.
How Does it Work?
Send a Message From an Appointment
You can notify a customer from an appointment in your booxi calendar.
Right click on an appointment and select Notify Client.
A form appears, where you can select the way you want to notify your customer (by email, by SMS or by phone/call) and the message (create one or select a predefined message).
Click on Send and your customer will instantly receive the message in their inbox or on their smartphone.
For notifications by phone, you simply take note of what have been discussed with the customer and click on Save.
You can now see, directly in your calendar, that a notification was sent for that appointment with the icon .
From the appointment form you have access to all the messages sent for this specific appointment.
Edit and Add Predefined Messages
You can predefined messages that suit your needs, you can modify it once it is created or add a new one.
To do it, simply right click on the appointment and select Notify Client.
From there, select how you want to notify your customer (email, SMS or Phone Call).
In the section Preset message, click on the Add icon. You can then add a name for the predefined message. Write the text you want and click on Save. Your preset message is saved. You can now use it by clicking on the drop down menu on the Preset message section. If you need to modify it, select the predefined message and click on the Edit icon. The Edit predefined message popup will appear and you will be able to modify the message. Click on Save to keep your changes, or Delete to delete that predefined message.
To add a new predefined message, select Custom Message and click on the Add icon.
View the Message History
You can access the list of messages sent for a specific appointment or to a specific customer at any time.
From the Appointment Form, use the menu at the top right and click on the option View Message History.
From the Client Summary (in the client list), select the option Message History.
With this personalized message feature you can improve your customer experience and save even more time.
---
Try it for free
14 days – No credit card required