Offering online booking to visit your store is a great and easy way to control your traffic and avoid an awful customer experience with lineups in front of your store. 
This article will be focusing on setting up online booking for store visits.
1. Get a booxi account 
If you already have a booxi account, click here to sign in. If not you can sign up and enjoy a free trial. If you have multiple store locations, you can start your online booking with a selection of stores which can be grouped by regions.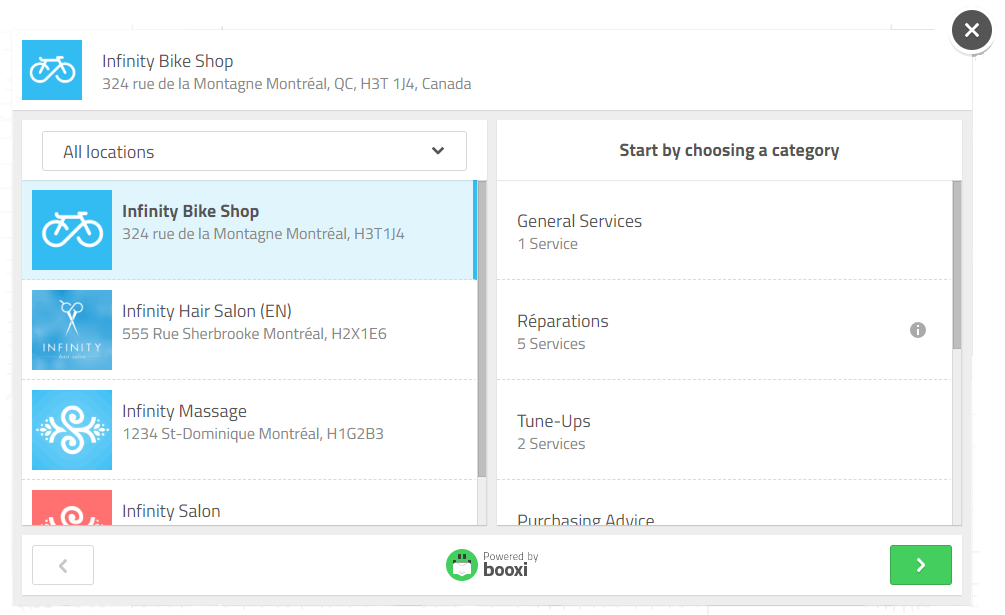 2. Create a store visit service
Whether your retail store accepts 5 or hundreds of customers, you can create a group reservation service to control your traffic flow at any given time. If you can only accept a few customers at a time, appointment booking is a great option for you.
The idea is to create small groups of availability to control the traffic and offer time options to your customers. For example, if your store accepts 40 customers at any given time, and you estimate the average shopping time to be 40 min per customer, you should create groups of 10 min with each a capacity of 10 customers. So 40 customers will get in, and after 40 mins 10 will go out, then 10 more will go in every 10 minutes, controlling the flow of traffic in your store.
Click on the

Service 

main section

Add a new service

(booking type

group reservation

) and edit the

details

Set a time

duration

 (ex. 10 min), uncheck

display duration

Set the

price

to free and uncheck

display price 

You can use the

instructions

to inform your customer on what to expect.

Provide a marketing

description

at the bottom,  such as All customers are required to book their visit and thus avoid long lineups. Click on

Save

at the top, and you're done. Remember to turn your service online when everything is ready.
3. Plan your traffic with group availability
Create short-duration group availability time slots and copy paste a day or a week to plan ahead. 
Click on the

Calendar

main section

Use any personnel's calendar or one that you created to schedule your store visits

Add a new group availability 

Copy that group, and paste throughout the day

Copy the whole day or week when you right-click on a day, paste it in another day or week to quickly build your schedule.

4. Integrate online booking  to your website
You can easily integrate the online booking button and iframe to your website or on any landing page if that's easier. It is only a matter of copy/paste of a small javascript code. 
It is recommended to add the online booking button to your homepage and inform your customers that they must book their visit prior to going to your store, as well as mentioning that they get to avoid lineups. 
Refer to the following articles to find out how
Customer Experience
Your customers will be able to book a visit online at a specific time, get information about what to expect, and avoid lineups.