Offering a personal online shopper service is a great way to increase your online sales per customer, and it can easily be accomplished using booxi. It provides a great customer experience, and sales associates can work from home. Video conference allows you to shop online with your customer by sharing your screen, but a phone conversation may be easier for your customer to set up. 
This article will be focusing on setting up an online booking for remote appointments both by phone and videoconference. 
1. Get a booxi account per timezone
If you already have a booxi account, click here to sign in, if not, you can sign up and enjoy a free trial. If your customers are in different time zones, it is recommended to create one account per time zone, so there is no confusion on the appointment time. 
For example, you can create accounts named:
My Brand Québec

My Brand Vancouver

My Brand Paris
Your online booking will start with a selection of regions, that you can also group by country
2. Create your remote appointment service
Create one on one appointment services or group reservation that will take place by distance using the by phone and by video conference Location option. Make sure to add some spacing between appointments.
Click on the

Service      main section

Add a new service and edit the

details


Select by Videoconference or by phone as the

Location


You can provide a general number or video conference link.
Leave this blank if each appointment has different contact information, or if you will contact the customer.


Add some

spacing to your appointment duration if needed.


You can ask

questions at booking

, which can be a single question or a

survey. This is a great opportunity to gather information in advance or to ask the customer's preferred means of communication.


Provide

instructions that will 

be added to the confirmation and reminder messages.

If you do not want customers to choose a specific sales associate at booking, you can automatically dispatch the appointments instead. Change the

Booking Rules

to set the Online Personnel Selection to

No Personnel Selection

and the Time Selection Mode to

automatic dispatch

.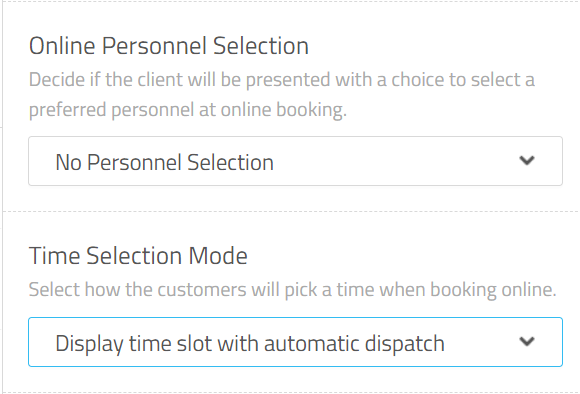 3. Set up your availability and booking capacity
Each personnel you create has a calendar of availability which determines your capacity, so 4 personnel calendars is a capacity of 4 appointments at a time. You can also set up your personnel according to their expertise so they are each available for different services.
Click on the

Personnel

main section

Add new personnel and edit the details if needed

Assign services to that person

Set a

Work Schedule

to determine the availability of that person

If you wish to share this personnel's calendar with other staff, you can change the sharing setting in the Booking Rules.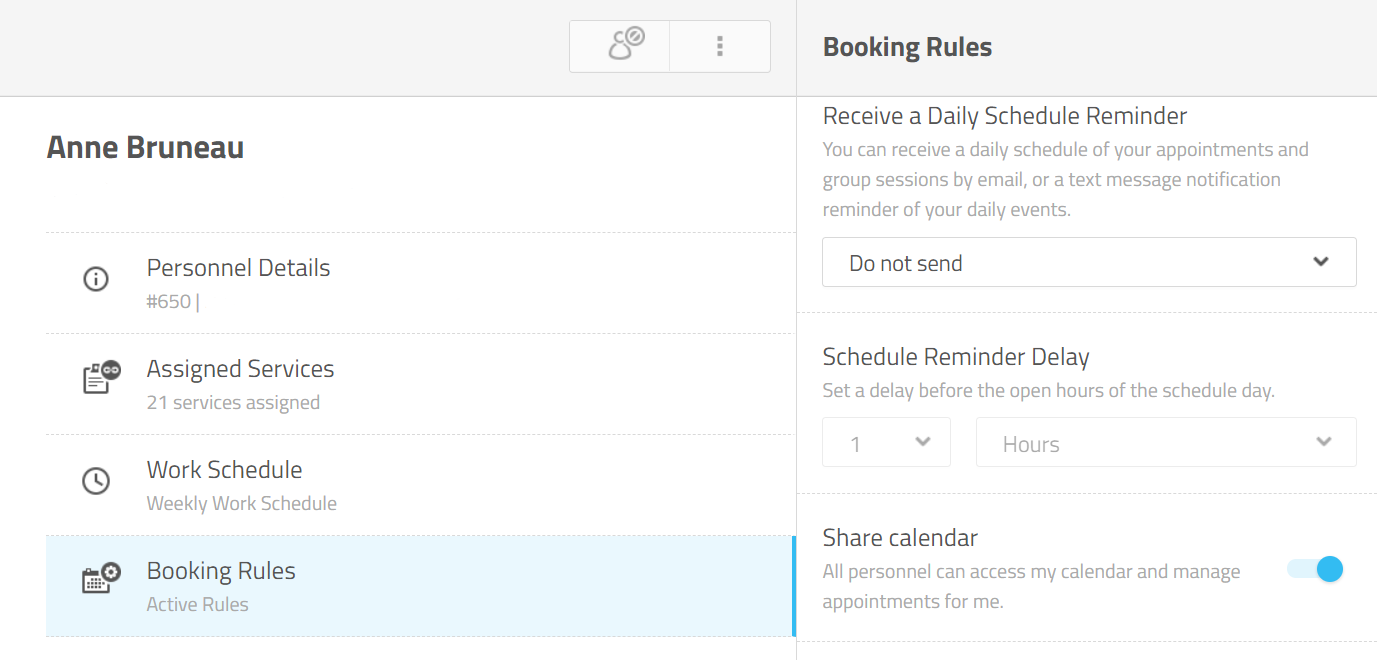 4. Integrate this online booking service to your website
You can easily integrate the online booking button and iframe to your website or on any landing page. It is only a matter of copy/paste of a small javascript code. 
It is recommended to add the online booking button to your homepage and to as many places as possible. If your eCommerce site can popup custom messages based on customer navigation, this would be a great opportunity to convert an undecided customer.
Discover how to do this in this article.
5. Prepare for your appointment
You and your employees can access the appointment calendar from anywhere and prepare for each appointment by looking at the booking survey answers. You can also send for example a notification message with instructions on how to connect to a video conference.
Click on the

Calendar

main section, and select your calendar

Click on an appointment to view its

details

If a survey was filed, click on

Edit Survey

to review the answers

Click on

Notify Client

to send a message (this can be used to provide a number to call or a send a video conference link) 

You can also create template messages so you can easily reuse them for each appointment.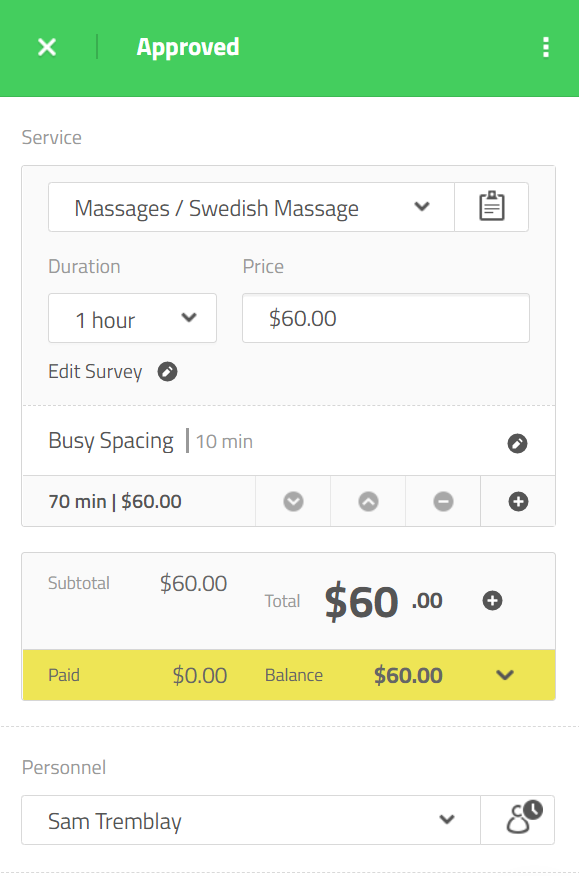 6.Follow-up an appointment
Once the appointment is completed, you can send a thank you message to your customer as well as links on products that you have recommended. You can also send a promotion code if that's applicable.
From the appointment, click on Notify Client

Select a thank you message template and paste product links.

Add a promo code

Send, and you're done.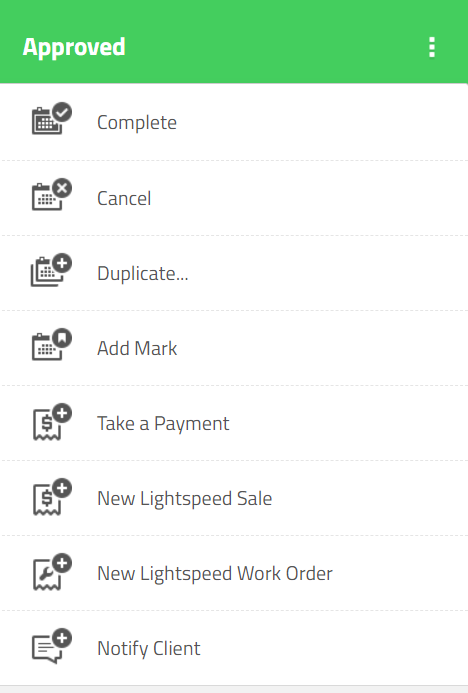 Customer Experience
Your customer will be able to book online, see your availability, get a confirmation, and a reminder close to the appointment time. The reminder's instructions will guide him on how to contact you, and the service you provide will help him make better purchases. A thank you email sent immediately after the appointment is a great incentive to buy more products.