Offering a Click and Scheduled Collect service is a great way to keep your customer's loyalty. It provides a convenient and contact-less option by avoiding shipping costs and therefore, attracting customers.
This article will be focusing on setting up online booking after checkout which will then allow your customers to schedule their collect at the store, avoiding shipping costs and lineups to collect.
1. Get a booxi account 
If you already have a booxi account, click here to sign in. If not, you can sign up and enjoy a free trial. If you have multiple store locations, you can start your online booking with a selection of stores which can be grouped by regions.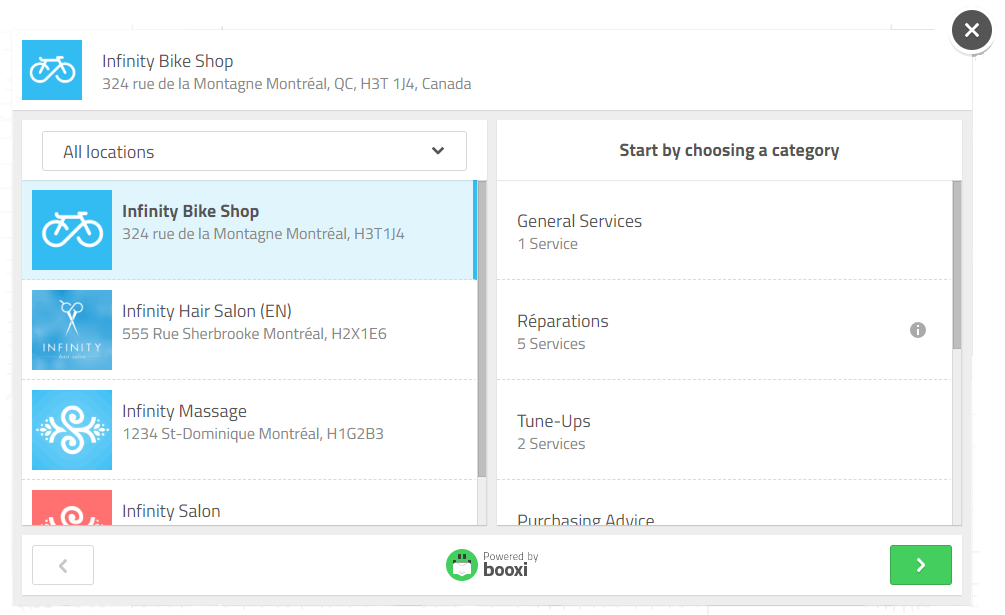 2. Create your collect appointment service
Create a short appointment with availability every 5 minutes, just enough time to hand over your customer's purchase. 
Click on the

Service     

main section

Add a new service and edit the

details

Set the duration to 5 minutes

You can ask

questions at booking

, which can be a single question or a

survey

. It could be useful to ask about the car color, model, brand or licence number to identify the customer's car.

You can use the

instructions

section to inform your customer on what to expect.

If you create multiple personnel's calendars to increase your capacity, make sure to change the

Booking Rules

to set the Online Personnel Selection to

No Personnel Selection

and the Time Selection Mode to

automatic dispatch

.

3. Set up your booking capacity
You can increase your booking capacity by adding personnel calendars, so 4 personnel calendars is a capacity of 4 appointments at a time. 
Click on the

Personnel

main section

Add new personnel and edit the details if needed

Assign the collect service to that person

Use the

Work Schedule

to manage different capacity on different days of the week, or simply set that schedule to your business open hours.
4. Integrate this online booking service to website
You can easily integrate the online booking button and iframe to your checkout page or any landing page. 
Here are a few ideas to keep it simple, depending on the flexibility of your eCommerce site:  
Add the booking button to your collect option

Add a link to the collect booking page in your checkout message

Add a link to the collect booking page in your order confirmation email

Inform your customer of this new option in your homepage
Make sure to push the order number with the appointment so you have that information handy for the collect. Integrating the button is only a matter of copy/paste of a small javascript code. Refer to the following articles for a step-by-step guide.
5. Prepare for your collect appointment
You can easily access the appointment list and prepare for each collect by looking at the booking survey answers.
Click on the Calendar main section, and select the List View mode

Click on an appointment to view its details and get the associated order number

If a survey was filed, click on Edit Survey to review the answers

Identify the customer's car and handover his purchases.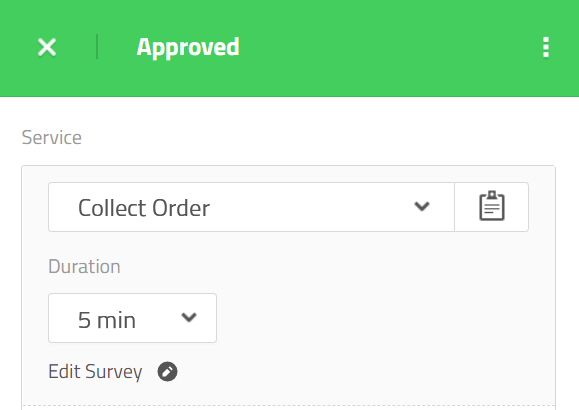 Customer Experience
Your customers will be able to book a collect online at a convenient time, receive a confirmation and a reminder close to the appointment time. The reminder's instructions will guide them on how to proceed at your store, avoiding lineups and having a safe, contactless collect experience.