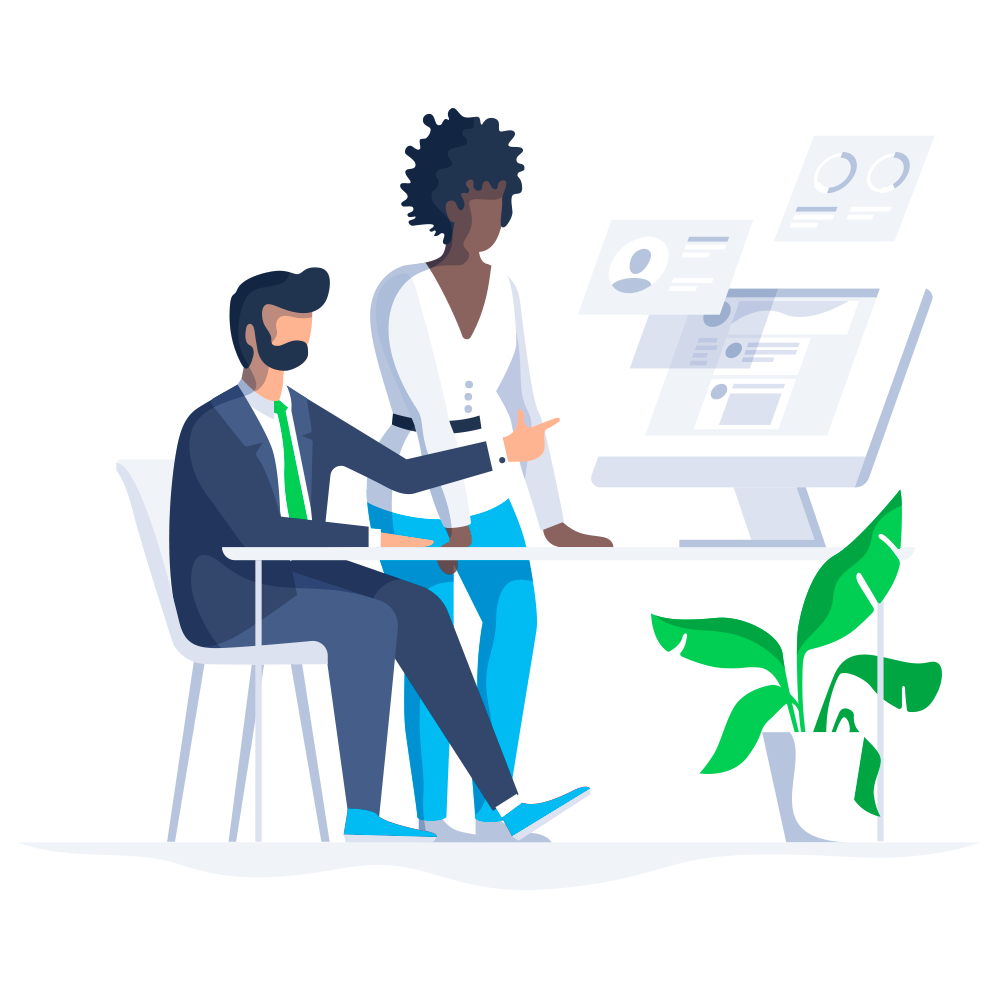 With hundreds of new businesses created every day, it is important to stand out.
You can't simply offer a quality product or service, you also need to make yourself visible on the web! It is very rare that a company, no matter the sector of activity, isn't on the web somehow.
According to Chainstorage.com, it is said that 80% of consumers search online before shopping; it is therefore important that your customers find you!
Luckily for you, there are several ways to have a web presence; through a website, social networks, newsletters, mobile application, etc. Today, we talk about three ways you can use the web to your advantage!
1. Get to know your target market
One of the first steps in getting a business up and running is to determine who will be your target market, who will benefit from your products or services. If you determine your target audience from the beginning, it will be easier to adapt your content, your visuals, to build your website as well as all of your communications (newsletter, text messaging, social networks).
Why is it important to adapt to your target audience? Because not only do you want to build a good relationship with your customers by offering them a quality experience, but you also want to increase loyalty. By creating a web community with your potential and current customers you increase the chances of recurrence, good reviews, references, etc.
Competitive intelligence is also important before getting starting your own business. Look at similar businesses, those that offer the same services or are located near you. It will give you a good idea for your pricing, services offered and well as the target market. Keep in mind though, this isn't to copy, but rather to use the information as a guide or for inspiration.
Try to be as creative as possible on the web. Live videos, Facebook contests, daily Instagram posts, ΓÇÿClient of the Month' articles, all of those are great ideas to create an active web community!
Another advantage of the web? Personalized communication!
The personalization of your posts is very interesting and you should definitely explore all of its advantages! For example, on Facebook, you can sponsor posts that will only reach your target market. You can also collect the names of your customers and use it when sending a monthly newsletter. Customizing will make your customers feel that they are important to you; This is a great way to focus on customer loyalty.
2. Listen
Listening to your customers on the web? It is possible and you should definitely do it! In fact, you can gather valuable information that will help you adjust when it's time to make some changes or modifications in your business.
Observe purchasing behaviors:Your customers use your services only once and never come back? Do you have a high recurrence rate? Keep records of your customers to evaluate their purchase behaviors, it will be easy to determine if you need to make changes, for example, there might be something wrong if the recurrence rate is very low.
Collect comments:
If you have the time, try to offer a personalized after-sales service. Send a thank you email asking the customer for their comments on the product, service, or ask them to submit a review about their experience. Facebook offers a 'review' section to allow customers to give their opinion based on stars (1 to 5) as well as leave relevant comments. Do not forget to reply to these comments, whether they are positive or negative!
Participate in forums:There are several forums or groups on Facebook where you can gather information. For example, about ten thousand professionals joined a Facebook group called 'Dans la tête des entrepreneurs'. It is not unusual to see people ask for design advice about their website or get more information about marketing tactics. it is very interesting because the answers come from professionals who are there to help you! It's also a great way to make contacts.
Surveys:Surveys are also interesting because they allow you to collect answers of questions you may have. You can add a survey section in your newsletter and ask your customers some monthly questions. Want to offer a new service? Create a survey to see if it could possibly interest your customers. There are several tools to help you, for example, SurveyMonkey.
3. Adjust
By collecting information about your customers and their buying habits, you will be able to adjust when the time comes to make changes. Chances are that you have to be flexible when you're in business, and that's a good thing, because adjusting to please your target market is a good way to retain your customer base and demonstrate how much you care about them.
There's nothing wrong with modifications!
Just be sure to notify your customers. Web platforms are a great way to keep your customers informed on news features or updates. Use them to your advantage by encouraging people to react to your publications, leave comments, share or ask questions. Do not forget that adjustments are not a sign of weakness, on the opposite, it shows your customers your flexibility!
You can also use the newsletters, to talk about upcoming news or changes! Newsletters are an excellent way to build loyalty. Have you ever thought about text message marketing? If it works with your target market, why not try it? It is said that 93% of people have a smartphone and 98% of all text messages are open!
You have every advantage to use the web if you are in business! Not only is it an inexpensive (or even free) solution, but the web could propel your business to another level! Customer loyalty, newsletter, animated social platforms; explore the different ways and see what works with your customers, while having fun!
Your idea deserves a great site!
Go to WebSelf.net to create your own free website today!
Webself is a free and easy tool to create website. Choose your design, add your texts and pictures and publish your website on the Internet. It has never been easier to create a website! No computer knowledge required, only your imagination ! Start building your own website today.