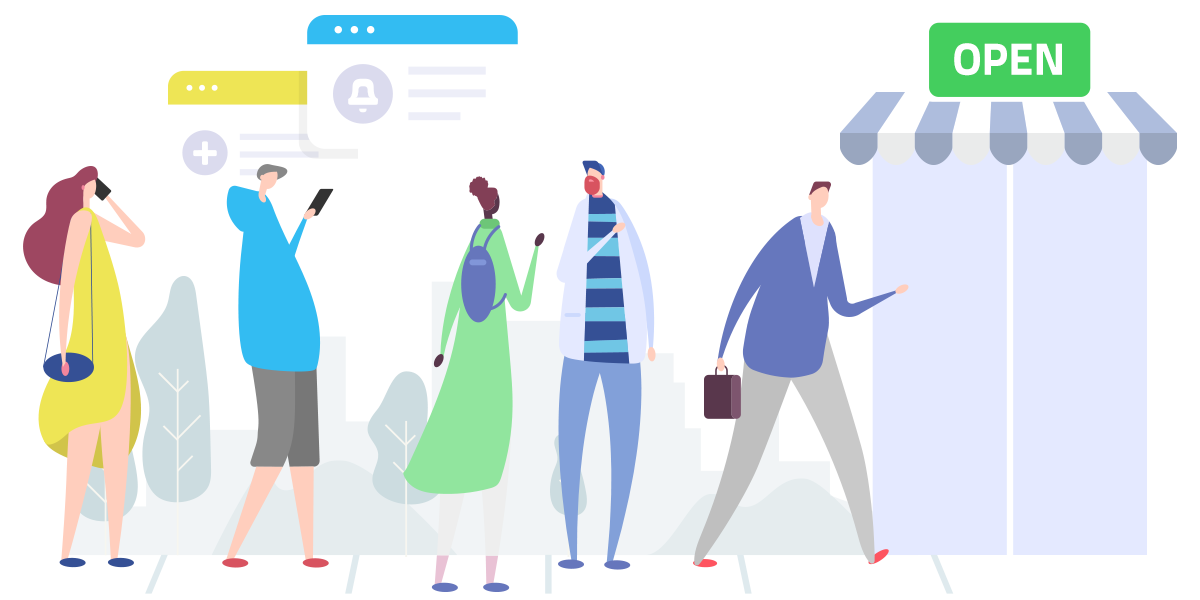 In order to control Holiday crowds, the government has imposed tighter restrictions in the retail industry. Beginning Friday December 4th, 2020, merchants will have to limit the number of customers in their stores and display it in a clear and visible manner.
New Guidelines
In order to know the maximum number allowed in your store, you must divide the store square footage of the business by 20. Customers must be able to socially distance everywhere in the store, as well as in the lineups outside.
How to Get Prepared
The best way to ensure a good customer experience and motivate customers to go to your store is to provide them with an experience that feels like a white glove service. Remain competitive amidst capacity restrictions by reducing line ups at your doors. This can be easily put in place in no time and with little effort. Provide your customers the option to book their store visit online in order to avoid waiting in line, and enjoy a better shopping experience.
Using a smart appointment booking solution will allow you to know in advance the upcoming traffic, avoid line-ups, and drive qualified customers with the motivation to spend more.
It's also the easiest way to control the number of customers arriving at the store. Rather than make people wait out in the cold, accepting appointments based visits will assure that customers have enough time to shop, and business owners can rest assured that they are respecting their in store capacity.
Set up booxi in a Few Minutes and Manage Your Traffic in-Store
If you're looking for an easy, simple way to implement appointment based visits, booxi can be easily set up in just a few minutes.
How to get started:
Sign-up free for 14 days (no credit card required)

Set up your account with some information, including your opening hours.

Create your store visit service with your store capacity limit.

Schedule your customer flow and you're done.

You can now send an email to your customers providing them with your booking page url and invite them to book their appointments to visit your store.

You also have the option to add a book now button or a link to your website homepage.

Additionally, you have the option to ask your customers questions during the booking process, such as «Are you shopping for something specific? «

The more you advertise this option to your customers, the more likely they will book appointments.
Happy customers, happy business owners!
Why booxi
booxi is easy to use, for both your customers and employees. The setup and training can be done within a few minutes and can be integrated into your current retail ecosystem.
Functionalities:
Manage store capacity

Online and offline (by phone) booking

Click and scheduled collect (prepare orders in advance, efficient contactless pickup)

Offer a more personalized service to your customers

Reduce lineups and wait time

Optimize your employee schedules and increase efficiency
Did you know?
90% of consumers with appointment purchase products
A visit by appointment increases the average basket size 4-6x more
It's Time to Act Quickly
As these new regulations are being introduced, choosing a solution that is effective and can be rolled out quickly is crucial.
The booxi team is ready to help you get started.